Age: 11 (10/26/2012)
Gender: Male
Country: Honduras

Needs a sponsor



...Read More



Alexander Wady Garcia Sauceda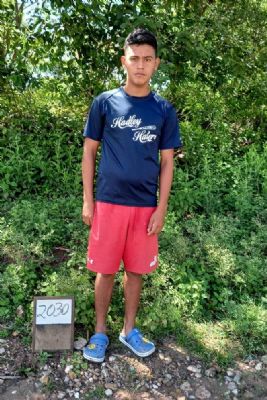 Ç Go back
Fully supported



Country:
Honduras
City:
El Hatillo
Location in city:
Cantarranas
Age:
21 (6/2/2002)
Gender:
Male
Status:
Destitute
Support Application (947KB)



   My name is Alexander Wadv Garcia and I speak Spanish, I am from Honduras, Central America. I am three years old and my birth date is June 2, 2002. I have dark brown hair and dark brown eyes. I' m three feet three inches tall and weigh thirty pounds. I am currently in Kindergarten.

   My favorite color is green. I have one brother, and I live in a village named El Hatillo in the central mountains of our country.

   I live with my mother in a small house. The walls are made of adobe mud blocks and the roof is made of clay tile with a cement floor. I sleep on a bed by myself. We have running water, and an outdoor flushable toilet.

   I have no father, he abandoned us so my mother works, and earns about $10 a week. Here we normally eat tortillas, beans, rice, or spaghetti. I have no toys, and would like to have an airplane, a motor bike, and a bike.