Age: 16 (12/25/2004)
Gender: Female
Country: Honduras

Needs a sponsor



...Read More



Kristel Ariela Cardona Guzman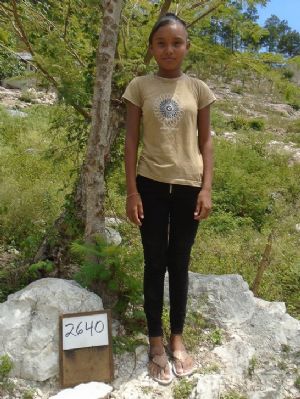 Ç Go back
Needs a sponsor



Country:
Honduras
City:
Bartolo
Location in city:
Cantarranas
Age:
14 (5/7/2006)
Gender:
Female
Status:
Destitute
Support Application (366KB)



Kristel's favorite color is pink. I guess the photo gave that away! She is still too young for school but will be entering kindergarten next year and is exicited to be able to go and learn. Home is boring becasue all the other kids are at school all day and she has no toys at home to play with. Eagerly, she said she would love to have stuffed animals and a doll. No surprise there!

Her father Santos works on a farm and makes about $30 weekly which is better than most men make. Her mom Dinora is a housewife. In her mountain top village there are no jobs for women outside the home.

Like everyone else, their home is made of adobe, mud blocks that were dried in the sun and it has a roof of tin sheets held in place with a few random nails and large stones to keep the wind from blowing it away. The floor of the house is packed dirt and it has only one room. They have no electricity, no water, no bathroom, and no indoor kitchen. Mom cooks outside on an adobe stove so when it rains, they have no food to eat. Kristel sleeps in the one bed they own along with her parents, it is a rickey wood bed held together with ropes. It is the only furniture they have - no table, no chairs. They sit on the floor. She has two dresses and one pair of sandals and her pink shoes.

The whole family attends church faithfully at the Baptist church in their village.
---

If you would like to sponsor this child for $35.00 a month then you can by two ways:
support@finalfrontiers.org