Age: 15 (11/7/2006)
Gender: Male
Country: Honduras

Needs a sponsor



...Read More



Leivin Yosselin Barahona Pineda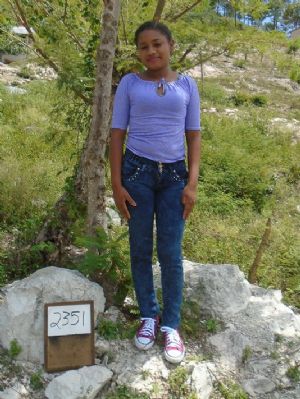 « Go back
Needs a sponsor



Country:
Honduras
City:
Bartolo
Location in city:
Cantaranas
Age:
19 (12/9/2002)
Gender:
Female
Status:
Destitute
Support Application (1.04MB)



†††I live with my parents and brother in a town called Bartolo, which is 2 hours walk away from any other town, up in the mountains. My mother does not have any work except for taking care of us at home. My father works on a farm planting corn and beans and earns about $18 a week. With that money we are able to eat rice and beans with tortilla.

†††We live in a three room house which has walls made from adobe mud blocks and an old tin roof. The floor of our house is only dirt. At night I sleep in a wooden bed with a small piece of foam rubber for a mattress. The house has running water most of the time but we do not have a flushable toilet. We do not have any electricity so we use Kerosene candles at night to see.

†††I have some dolls to play with but I would love to have a some more dolls and toy dishes. I have 2 pairs of shoes and a few sets of clothes. I have brown hair with black eyes and my favorite color is yellow. I am 3' tall and weigh 22 lbs. I am not yet old enough to attend school but will be soon.

†††Leivin has not yet accepted Christ as her personal savior. With your support she will attend Sunday school and will hear stories from the Bible and get to sing hymns when she goes to the feeding center.
---

If you would like to sponsor this child for $35.00 a month then you can by two ways:
support@finalfrontiers.org